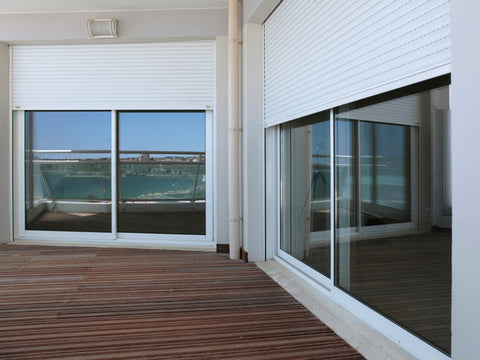 101.25" x 107" Roll-up Hurricane Shutter- 44 mm ER
---
Need a Custom Quote?
ONLINE NOW
Call for Your FREE ESTIMATE!
1-888-474-3555
8am - 6pm EST Monday - Friday
Or
Get Price Online
 This manual 44mm End-Retention Roll-up Hurricane Shutter is built to finished dimensions of 101.25" x 97". The shutter will fit a door 96" wide and 96" high.
For durability, ease of use, and maximum storm  protection, rolling shutters are an excellent choice. Constructed from 6063 T-6  aluminum extrusion, rolling shutters are  built to withstand the most severe weather events. Roll-up shutters come standard with a manual crank, and can be upgraded to include an electric motor, for worry-free operation. 
Roll-up Shutters come in 4 colors: white, ivory, beige and bronze. 
Contact us today for a free quote at: 1-888-474-3555 
---
We Also Recommend