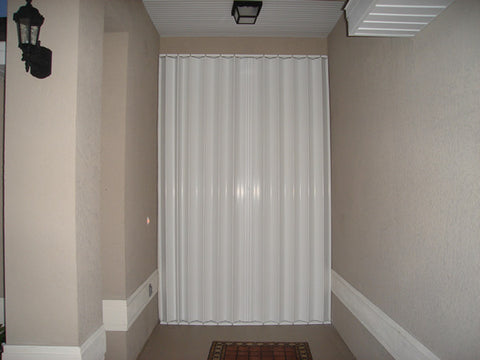 72" x 103.25" Folding Aluminum Shutter
---
Need a Custom Quote?
ONLINE NOW
Call for Your FREE ESTIMATE!
1-888-474-3555
8am - 6pm EST Monday - Friday
Or
Get Price Online
 This Folding Aluminum Shutter is built to finished dimensions of 72" x 103.25". The shutter will fit a door 60" to 62" wide and 96" high.
Folding Aluminum Shutters are durable, affordable and popular methods of  storm protection for both homes and offices. These shutters offer the ease of use and reliability that you need during hurricane season.  They are also sturdy enough for every day use in keeping out  the sun, heat, cold or as a security precaution against forcible entry. Whether you  need protection from storms or theft, Folding Aluminum Shutters are a great choice.
Folding Aluminum Shutters come in 4 colors: white, bronze, ivory, and beige.
Contact us today for a free quote at: 1-888-474-3555 
or order through our website: www.hurricaneshuttersflorida.com
---
We Also Recommend