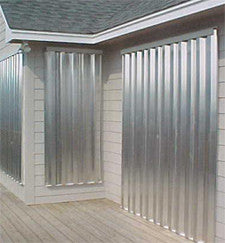 43.25" X 32" .050 Storm Panel
---
Need a Custom Quote?
ONLINE NOW
Call for Your FREE ESTIMATE!
1-888-474-3555
8am - 6pm EST Monday - Friday
Or
Get Price Online
 This Storm Panel is built to finished dimensions of 43.25" x 32".The panel will fit a window 37.25"-43.25" wide and 26" high.
Storm Panels are the most cost effective option for your home's storm protection needs. Once installed correctly Storm Panels are 25% stronger than flat panels or plywood.  A reinforced track allows for  fast and easy set up -- your entire home can be secured in under an hour. Storm panels are an excellent option for storm protection.
These Storm Panels are available in Mill finish.
Contact us today for a free quote at: 1-888-474-3555 
or order through our website: www.hurricaneshuttersflorida.com
---
We Also Recommend