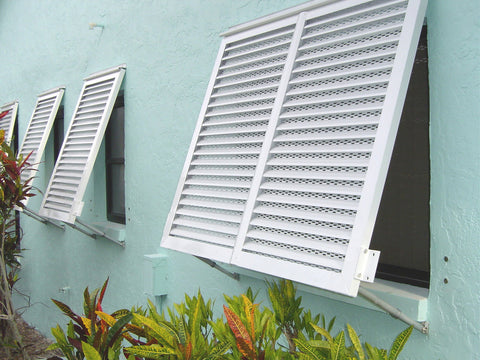 46" x 45" Impact Bahama Shutter
---
Need a Custom Quote?
ONLINE NOW
Call for Your FREE ESTIMATE!
1-888-474-3555
8am - 6pm EST Monday - Friday
Or
Get Price Online
 This Bahama Shutter is built to finished dimensions of 46" x 45". The shutter will fit a window 40" wide and 39" high.
Constructed of high-strength extruded aluminum, and designed for 180 + MPH wind conditions,  Impact Bahama Shutters provide the ultimate hurricane protection for your home. Bahama Shutters shut quickly and securely when needed, and are easily operated from outside of the home. These shutters also provide excellent privacy and security.
Bahama Shutters are available in over 180 colors.
Contact us today for a free quote at: 1-888-474-3555 
or order through our website: www.hurricaneshuttersflorida.com
---
We Also Recommend