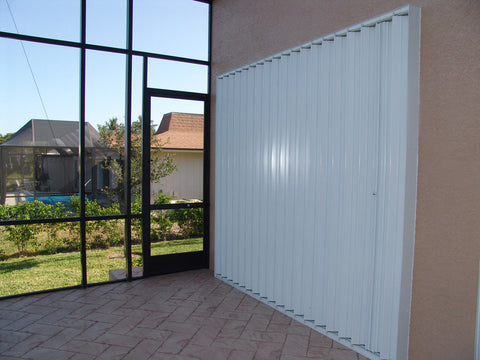 46" x 87.25" Accordion Hurricane Shutter
---
Need a Custom Quote?
ONLINE NOW
Call for Your FREE ESTIMATE!
1-888-474-3555
8am - 6pm EST Monday - Friday
Or
Get Price Online
 This Accordion Hurricane Shutter is built to finished dimensions of 46" x 87.25". The shutter will fit a door 34.25" - 40" wide and 80" high.
When the high wind, flying debris and heavy rain from a hurricane threaten your home, accordion shutters offer a practical solution. These durable shutters can protect not only windows and doors, but also patios, balconies, storefronts and any other open areas susceptible to storm damage. Accordion Shutters  are easy to operate, and can be closed quickly and easily. They are a great option for your storm protection needs. 
Accordion Shutters come in 4 colors: white, bronze, ivory, and beige. 
Contact us today for a free quote at: 1-888-474-3555 
or order through our website: www.hurricaneshuttersflorida.com
---
We Also Recommend