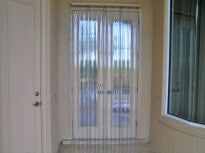 73.25" x 86" Clear Protexan Panel
---
Need a Custom Quote?
ONLINE NOW
Call for Your FREE ESTIMATE!
1-888-474-3555
8am - 6pm EST Monday - Friday
Or
Get Price Online
 This Storm Panel is built to finished dimensions of 73.25" x 86". The panel will fit a door 67.25"-73" wide and 80" high. 
Clear Protexan Panels offer High-Velocity Hurricane Zone protection, and a view. These transparent panels allow for 85% light transmission- providing your home with light and visibility even during a storm. Clear Panels are durable yet lightweight, allowing for hassle-free set up and easy storage.
Contact us today for a free quote at: 1-888-474-3555 
or order through our website: www.hurricaneshuttersflorida.com
---
We Also Recommend