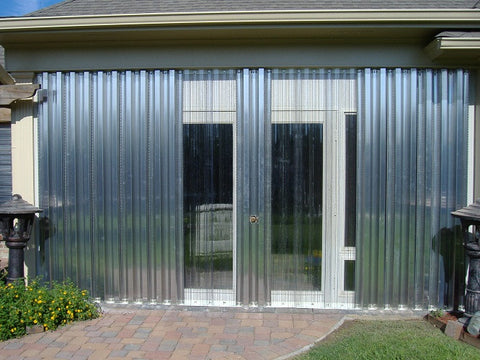 97.25" x 86" .050 Storm Panel
---
Need a Custom Quote?
ONLINE NOW
Call for Your FREE ESTIMATE!
1-888-474-3555
8am - 6pm EST Monday - Friday
Or
Get Price Online
This Storm Panel is built to finished dimensions of 97.25" x 86". The panel will fit a window 91.25"-97" wide and 80" high.
For affordable Storm Protection, Storm Panels are an affordable option. These durable panels are constructed of 5052-H32 aluminum, and are mounted to a track or directly to the wall. Storm Panels are custom built to fit each opening of your home or office and will provide years of unparalleled protection.
Tracks are available in bronze or white. 
Contact us today for a free quote at: 1-888-474-3555 
or order through our website: www.hurricaneshuttersflorida.com
---
We Also Recommend