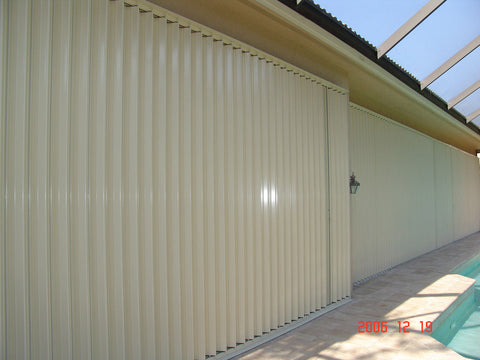 Accordion Hurricane Shutter in Margate, FL - Wide Expanse
---
Need a Custom Quote?
ONLINE NOW
Call for Your FREE ESTIMATE!
1-888-474-3555
8am - 6pm EST Monday - Friday
Or
Get Price Online
This accordion hurricane shutter is built to finished dimensions of 124" x 103.25". The shutter will fit a door 106.25" - 112" wide and 96" high. Accordion Hurricane Shutter in Margate, FL
Accordion shutters are  the perfect product for convenience, affordability and durability. They can be used to cover windows, doors, patios, storefronts and any other open area on your property that is susceptible to storm damage. Accordion shutters offer maximum protection against hurricanes and tropical storms. These shutters can also be used to securely lock up your  property when you go out of town. Accordion shutters in Margate are a great choice for protecting your home or office. 
Accordion shutters come in 4 colors: white, bronze, ivory, and beige.
Contact us today for a free quote at: 1-888-474-3555 
---
We Also Recommend