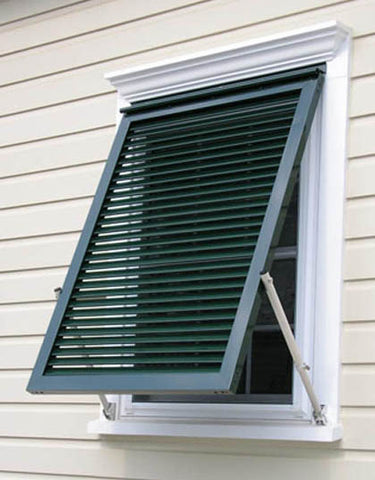 Bahama Hurricane Shutter
---
Need a Custom Quote?
ONLINE NOW
Call for Your FREE ESTIMATE!
1-888-474-3555
8am - 6pm EST Monday - Friday
Or
Get Price Online
This price is for (1) 40" x 40" Aluminum Hi Visibility Impact Bahama Shutter.
A Tropical Island favorite for more than 50 years, our Bertha Hi-Visibility Bahama shutters add exotic island flair, permanent shade protection, and excellent storm protection. Our Bahama shutters are manufactured from heavy extruded aluminum. They are permanently mounted above each opening on a 45 degree angle. The design of this modern Bahama shutter allows the homeowner to see through the aluminum horizontal slats. Our Hi-Visibility Bahama shutters have been engineered to meet the most stringent wind codes in the country.
Visit us at: www.hurricaneshuttersflorida.com
Or call us toll free at: 888-474-3555.
Shipping is an additional charge that is calculated once your total order has been completed.
---
We Also Recommend