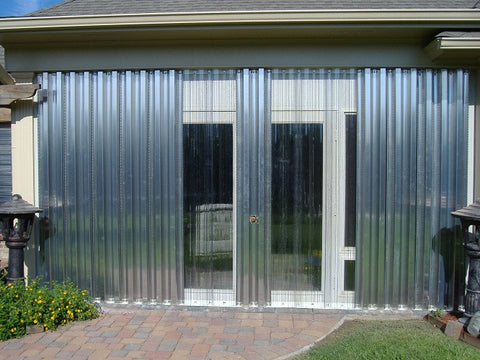 Storm Panel
---
Need a Custom Quote?
ONLINE NOW
Call for Your FREE ESTIMATE!
1-888-474-3555
8am - 6pm EST Monday - Friday
Or
Get Price Online
 Storm Panels are built to fit the dimensions of your windows and doors. 
Storm Panels are custom built to fit each opening of your home or office. These overlapping Storm Panels are 25% stronger than flat panels or plywood. Storm panels slip into an upper header and fasten to a lower track, using washered wingnuts or can be attached directly to the wall. Storm Panels offer peace of mind for any homeowner during hurricane season,and are easily stored when not in use.
Panels are available in Mill finish or White. 
Tracks are available in bronze or white. 
Contact us today for a free quote at: 1-888-474-3555 
or order through our website: www.hurricaneshuttersflorida.com
---
We Also Recommend