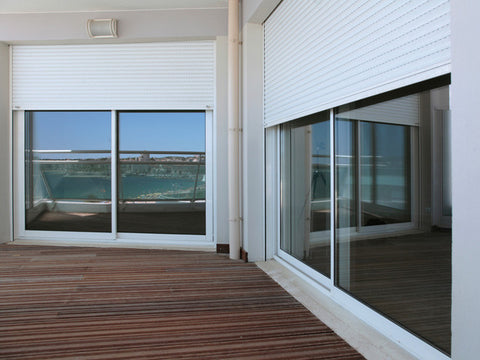 Houston Rolling Shutter - Texas Exterior Hurricane and Roll-down Security Shutters
---
Need a Custom Quote?
ONLINE NOW
Call for Your FREE ESTIMATE!
1-888-474-3555
8am - 6pm EST Monday - Friday
Or
Get Price Online
This manual 44mm End Retention Rolling Hurricane Shutter is built to finished dimensions of 101.25" x 91". The shutter will fit a door 96" wide and 80" high. Whether your home needs protection from storms or from theft, Rolling Shutters are the ideal solution.  Each Rolling Shutter is made to your exact specifications.  The Powder Coated finish makes them a high-quality product that  is both durable and easy to operate.  Rolling Shutters are made manual or motorized with a manual override. When motorized they can be controlled by a switch on the wall or remote control.  For convenience, security and storm protection, Rolling Shutters are the perfect option.  Rolling Hurricane Shutters come in 4 colors: white, ivory, beige and bronze. 
Contact us today for a free quote at: 1-888-474-3555 or custom order through our website:
www.hurricaneshuttersflorida.com
. Great for hurricane protection, security, and energy savings. Houston Rolling Shutter - Texas Exterior Hurricane and Roll-down Security Shutters.
---
We Also Recommend